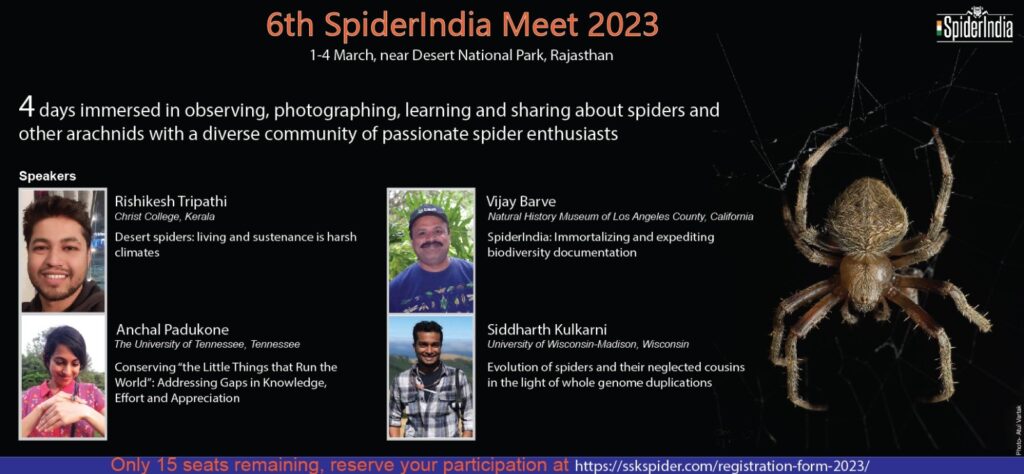 ---
5th SpiderIndia Meet 
Due to the COVID-19 pandemic, we skipped meeting in the year 2020. 
We met in beautiful forests of Auroville during 17-21 December, 2021, thanks to our host and SpiderIndia member Anubhav Agarwal. All observations can be viewed here.
4th SpiderIndia meeting
The fourth SpiderIndia meeting was held during 3-6 December, 2019 in CastleRock region of Karnataka.
---
3rd SpiderIndia meeting
This meeting was held in Amba situated in the midst of the northern Western Ghats during 24-26 December, 2018.
Nice documentation by SpiderIndia member Dr. Atul Vartak
Another nice write-up about the meeting by Prasanna Parab.
1st SpiderWeek organized during 15-23 August, 2020
2nd SpiderIndia meeting
!!! Congratulations Paris Basumatary, Bodoland University, Assam on publishing the report (BAS Newsletter 142-10-13) of second SpiderIndia meet in the Newsletter of the British Arachnological Society !!!
ABOUT SPIDERINDIA
Knowledge about biodiversity does not seep easily from research papers to general public in the age when biodiversity conservation is priority. To alleviate this knowledge gap, along with Vijay Barve, Florida Museum of Natural History, I use social networking and database platforms to document spiders, beginning with India [example: SpiderIndia Facebook group (>7,000 members)].
SpiderIndia was initiated in September of 2005 as a citizen science community by Vijay Barve to learn about spiders of Indian subcontinent. As initial communications channeled, the group decided to use Yahoo groups. Main focus of the group was to help citizen scientists in identifying spiders using their observations from the field. The membership was around 400 in 2011, when the community started migrating to the Facebook community. Since July 2012, SpiderIndia group of India Biodiversity Portal was initiated and then the SpiderIndia iNaturalist project was launched to capture Indian Araneae data systematically in one place. To bring the group together for personal interactions and exchange, SpiderIndia meets were initiated in 2016 in Kolkata and are conducted annually.